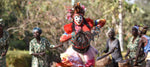 Gule Wamkulu was een geheime cultus waar onder andere rituele dansen werden uitgevoerd door de Chewa in Malawi, Zambia en Mozambique. Deze werden uitgevoerd door leden van de Nyau broederschap , een geheim genootschap van betrokken mannen. Binnen de Chewa's traditionele matrilineaire genootschap, waar getrouwde mannen slechts een bescheiden rol speelden, boden de Nyau een mogelijkheid om een contragewicht en solidariteit tussen mannen van verschillende stammen te vormen.
Bedankt voor de geweldig mooi foto's Joschka Woeste.
Traditie
Gule Wamkulu wordt uitgevoerd in de periode rond Juli wanneer de oogst is binnengehaald, maar ook ten tijde van trouwerijen, begrafenissen of bij het overlijden van een belangrijke Chief. Bij de belangrijke gebeurtenissen dragen de Nyau dansers kostuums, maskers gemaakt van hout, die een grote verscheidenheid van karakters voorstellen, zoals wilde dieren, geesten van de overledenen, slavendrijvers, maar ook meer recente onderwerpen als een auto of een helikopter. Deze traditie is diep geworteld in de Nyau cultuur.
Unesco
Gule Wamkulu is een buitengewoon rijke traditie welke door UNESCO opgenomen is op de immateriële Wereld-erfgoedlijst van de mensheid van 2005. Wil je meer weten van de Gule Wamkulu? Bekijk dan de link in onze site en kijk naar de leuke en soms grappige geweldige optredens.  

Als de dieren zingen en de geesten dansen
Het grote boek " Als de dieren zingen en de geesten dansen" geschreven door Claude Boucher, is een fantastisch boek dat zowel de portretten van de Gule Wamkulu, als de karakters, beschrijft en ook een duidelijke uitleg geeft over de achterliggende cultuur, de dansen en de diep gewortelde tradities. Het is een geweldige ervaring om de Gule Wamkulu te zien optreden.
De dansen en figuren geven je inzicht in de wereld van de Chewa's waardoor je je verbonden voelt met de cultuur in de dorpen.